Deirdre Michie named new Oil and Gas UK chief executive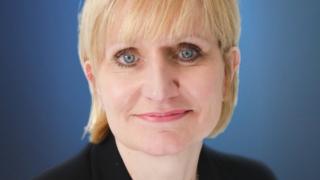 The new chief executive of offshore industry body Oil and Gas UK has been named.
Deirdre Michie will replace Malcolm Webb, who is retiring in May.
Oil and Gas UK said she would be based in the organisation's Aberdeen office, and would also have an office in London.
The new chief executive said: "This is a hugely challenging time for the industry that will require us all to work co-operatively."
Oil and Gas UK co-chairman Trevor Garlick said: "Deirdre Michie's strong oil and gas industry background will help her represent the broad spectrum of our membership, whilst also providing the strategic thinking and direction the industry needs from its trade association, especially in these challenges times.
"Oil and Gas UK has been transformed under Malcolm Webb's leadership into a highly influential trade association widely accepted as the voice of the UK offshore oil and gas industry.
"With Deirdre Michie at its head, our representative body will be in good hands."
Mr Webb joined Oil and Gas UK in 2004 when it was known as the UK Offshore Operators' Association (UKOOA),