Sumburgh plane 'dived after lightning strike' says AAIB report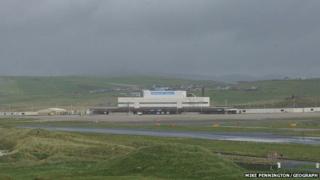 The Air Accidents Investigation Branch (AAIB) has published a report into a serious incident as a plane approached Sumburgh airport in Shetland.
The aircraft was struck by lightning and went into a steep dive.
During the incident last December, the pilots initially struggled to control the plane due to a misunderstanding involving the autopilot system.
Control was eventually regained and the plane diverted to Aberdeen. There were no injuries.
A special bulletin from the AAIB said the Loganair plane was approaching Sumburgh airport on a flight from Aberdeen on 15 December, carrying 30 passengers and three crew members.
'Ball lightning'
There were reports of snow, hail and strong winds at the airport, and a thunderstorm "cell" had been seen on the aircraft's weather radar.
The plane was struck by lightning moments after the pilot decided to abort the approach because of the bad weather.
The report said the lightning bolt hit the radar cone in the nose and exited from the auxiliary power unit in the plane's tail.
The rare phenomenon of "ball lightning" is reported to have appeared in the cabin of the aircraft.
The bulletin described how the commander and co-pilot struggled to control the aircraft as they inadvertently struggled with the autopilot system, which they thought had disengaged.
The plane descended at high speed to an altitude nearing 1,100ft (335m) before control was regained.
The flight then returned to Aberdeen with no further incident. There were no injuries and only minor damage from the lightning.
The investigation into the incident is continuing, with a final report to be published when it concludes.