Iconic Craigellachie Bridge stamp honour from Royal Mail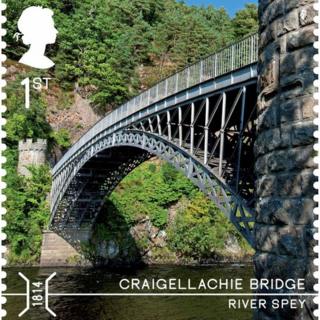 An iconic Scottish bridge has been celebrated in a new set of Royal Mail stamps.
The Craigellachie Bridge in Speyside was built by Thomas Telford more than 200 years ago.
The cast iron 150ft bridge is over the River Spey.
Andrew Hammond, head of stamps and collectibles at Royal Mail, said of the 10 selections: "The story of Britain's engineering genius can be found in its bridges."
Campaigners said they hoped the inclusion of the bridge could aid their bid to repair it.
However Moray Council said that, while it would not allow the bridge to fall into serious disrepair, spending on it was not a current priority.
Telford was born in Westerkirk in 1757 and is known as one of the country's finest civil engineers.
Raised in poverty, he became an apprentice stonemason at the age of 14.
Oldest example
The Craigellachie Bridge was cast in sections in Wales and transported by sea to the Moray Firth.
From there it was taken by horse-drawn wagons to Craigellachie.
It is believed to be the oldest surviving example of Telford's classic prefabricated lozenge-lattice arch design.
The other featured bridges are Tarr Steps (Exmoor), Row Bridge (Lake District). Pulteney Bridge (Bath), Pont Grog y Borth/Menai Suspension Bridge; Robert Stephenson's High Level Bridge (Newcastle/Gateshead), Royal Border Bridge (Berwick-upon-Tweed); Tees Transporter Bridge (Middlesbrough), Humber Bridge, and the Peace Bridge in Northern Ireland.