Aberdeen Dental School: 'Time to pull the plug'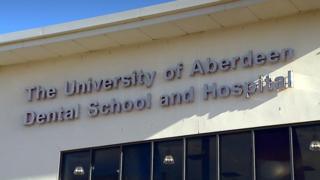 A former president of the British Dental Association has said it is time to "pull the plug" on Aberdeen's dental school.
John Drummond made the claim in a letter to the British Dental Journal. He said the Aberdeen dental school had never been a success.
Concerns were raised last month about the education received by students.
The University of Aberdeen, which runs the dental school, said it aimed to produce first class dentists.
A General Dental Council (GDC) inspection had highlighted a number of "adverse events".
These included treatment of the wrong tooth.
The GDC found that a third of final-year students last year did not graduate, and said it was disappointed issues were not identified earlier by the school.
'Excellent feedback'
Mr Drummond wrote: "In Scotland, it is clear we are overproducing dentists significantly. We are heading for significant unemployment and underemployment.
"Opening a new dental school in Aberdeen has simply compounded the problem.
"It is time now to pull the plug on Aberdeen."
A University of Aberdeen spokeswoman said: "We are committed to producing first class dentists for the communities of northern Scotland and beyond.
"Feedback from postgraduate trainers of our graduates from the last three years as well as their colleagues and patients has been excellent."
A Scottish government spokesman said: "Aberdeen Dental School was opened to address the shortage of dentists, particularly in remote and rural areas of Scotland.
"Student numbers are reviewed on a regular basis according to need, taking into account the total numbers of dentists, regional priorities and changing levels of oral health."