Cameras installed at Orkney's Italian Chapel after break-ins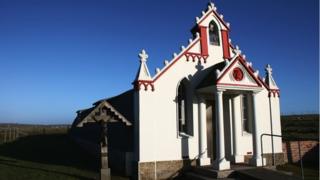 CCTV cameras have been installed at the Italian Chapel on Orkney following a series of break-ins and vandalism at the historic building.
The Italian Chapel was built during World War Two by Italian prisoners of war.
The ornate building has since become one of Orkney's top attractions.
It was among a number of churches and tourist attractions on the islands targeted by thieves last May.
Three plaques later stolen from the chapel have never been found.
The hand-carved "Stations of the Cross" were taken in August.
The plaques were gifted by the chapel's creator Domenico Chiocchetti in 1964, and his daughter supervised the production of replacements.