Abuse images man 'on Madeleine crusade' may have disorder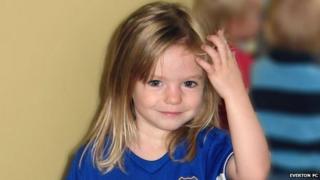 An Aberdeen man caught with images of child abuse who claimed he was trying to find missing Madeleine McCann could be suffering from a personality disorder, a court has heard.
David Brinkman, 68, admitting trawling through hundreds of indecent images and videos of children.
Aberdeen Sheriff Court had previously heard that Brinkman was a "one man crusade".
Sentence was further deferred until next month.
Madeleine was three when she disappeared in Praia da Luz in Portugal in 2007 while on holiday with her parents Kate and Gerry.
'See for himself'
Lawyer Mike Monro told the court that the 694 indecent pictures and 88 clips were downloaded because his client suspected that Madeleine had been abducted by a paedophile ring.
He said: "As a result of that he got himself immersed in looking at child pornography.
"As we know Madeleine McCann has a distinct mark in her eye.
"He thought if he trawled through this material he might see for himself."
Sheriff Graeme Napier said a psychologist had noted that Brinkman could be suffering from a personality disorder and dementia which could take months to diagnose.