University of Aberdeen rector Maggie Chapman unveiled on bull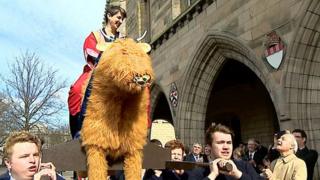 The new University of Aberdeen rector has been unveiled after the traditional parade on the back of a bull mascot.
Maggie Chapman, co-convener of the Scottish Green Party, was elected in November.
The vote followed the death of businessman Dr Maitland Mackie.
The new rector said: "I'm honoured to have been elected and very much look forward to working hard on behalf of students with the whole university community over the coming years."
Prof Ian Diamond, principal and vice-chancellor of the university, said: "Dr Chapman will bring to the role of rector a breadth of experience from her political work, environmental work and life in academia."
Emily Beaver, president of Aberdeen University Students' Association, added: "Maggie has intimated she will take on an active role as rector."
Dr Mackie - chairman of the family-run Aberdeenshire ice cream maker Mackie's - had taken up the post in 2012, but died aged 76 last year.