Orkney's Swannay Brewery to expand after funding boost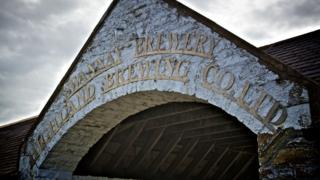 An Orkney brewery is to expand and create new jobs after a £123,000 investment from Highlands and Islands Enterprise.
The Highland Brewing Co's Swannay Brewery has seen its beer sales increase in recent years.
Now it will target building its market in areas including North America, Japan and Scandinavia.
The Swannay range includes beers such as Scapa Special, Orkney IPA and Island Hopping.
Lewis Hill, who runs the Swannay Brewery, said: "The craft beer market is thriving locally and globally and we are looking forward to engaging our UK customers more as well as doing Orkney, Scotland and the UK proud as we share our wares with beer-lovers in exciting new markets."
Harvey Stevenson, head of strategic project at HIE in Orkney, said: "This is an exciting business that we have been closely involved with over the years.
"We are delighted to be able to help again now that the company is moving up a gear and expanding into international markets."
The family-run business was established in 2005.