Triple Kirks in Aberdeen to become student flats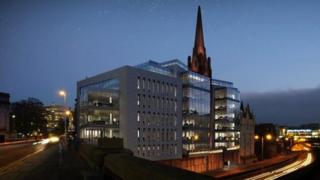 Plans to turn Aberdeen's historic Triple Kirks into an office development are being scrapped in favour of a new proposal for student flats.
Developer Dandara said it was responding to a change in market conditions, with supply now outstripping demand for offices.
The tower and spire, built in the 1800s, became derelict in the 1970s.
Dandara said it was working with the city council's planning department over the change.