Aberdeen to Wick flight emergency due to engine problem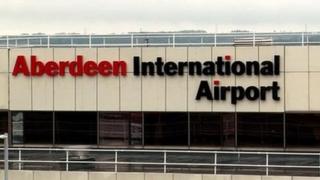 A flight returned to Aberdeen International Airport after an emergency was declared due to an engine problem.
The Eastern Airways flight was from Aberdeen to Wick.
The pilot shut down the affected engine and returned to Aberdeen where the emergency services had been alerted. The plane landed safely, shortly before 10:00.
The flight had five passengers and three crew on board.
A spokesman for Eastern Airways said: "The captain operating flight T3 561 from Aberdeen to Wick returned to Aberdeen shortly after departure due to a problem relating to one of the aircraft's two engines.
"As a precautionary measure, the captain decided to shut down the affected engine.
"The Jetstream 41 landed safely.
"As part of our procedures, we have launched an investigation. We apologise to passengers for the inconvenience, but the safety of our passengers and crew is paramount."