Oil worker helicopter size recommendations come into force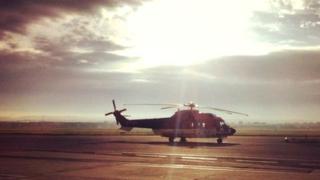 New recommendations about the size of passengers in North Sea helicopters have come into force.
Tens of thousands of offshore workers have had their shoulder width measured in the run-up.
Passengers classed as "extra broad" are now required to sit by a wider window.
It follows last year's report by the Civil Aviation Authority (CAA) which set several safety objectives for the industry.
Concerns were raised about larger passengers being able to escape from a crashed aircraft quickly.
The offshore safety body Step Change said the safety of offshore workers was the priority for the industry.
The group said 41,464 offshore workers had been measured ahead of the restrictions being introduced.
'Extremely positive'
Step Change executive director Les Linklater said: "When the passenger size restrictions were announced in February 2014, we knew the industry had a fresh challenge on its hands.
"But the industry's response to the measurement strategy has been extremely positive and collaboration from all those involved has meant we have met the deadline on time, with no disruption to helicopter flights.
"Only 2.9% of those measured are extra broad, which means we can ensure helicopter passengers will be allocated the correct seats.
"Those in the Passenger Size workgroup have demonstrated a tremendous commitment to the safety of offshore helicopter passengers and the continuous improvement of safety in the North Sea, while being mindful of the cost pressures faced across the industry."
A recent study said offshore workers are now almost a fifth heavier than in the mid-1980s.