Deacon Blue to play Stonehaven Hogmanay event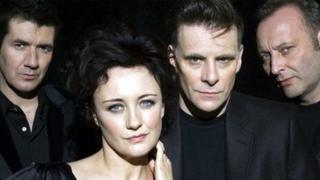 Scottish pop group Deacon Blue are to headline Stonehaven's Hogmanay event.
The band - who count Dignity and Real Gone Kid among their hits - will follow in the footsteps of The Human League and Simple Minds at the Aberdeenshire town's Open Air In The Square (OAITS).
An OAITS spokesperson said: "This is a major boost to Stonehaven's growing reputation as one of the top Hogmanay venues in Scotland.
"We are delighted to feature one of the biggest names in the pop world."
Lead singer Ricky Ross said: "We are really looking forward to coming to Stonehaven.
"It's a place I know quite well. When I was young I grew up in Dundee and used to come to lots of places along the east coast.
"I haven't been in Stonehaven for a long time and I am looking forward to coming back. It's the first time we will have done a gig there.
"We're not doing a lot of gigs this year so it's one of a few special gigs."