Standards probe into Aberdeen council letter to resume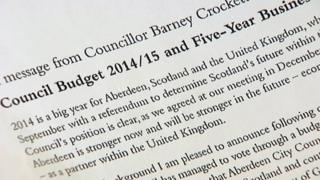 A Standards Commission hearing into a council letter sent to Aberdeen residents ahead of the Scottish independence referendum is set to resume.
The letter was sent with council tax bills last year, urging people in the city to back a "No" vote.
Five Labour and two Conservative councillors faced the start of the hearing in February. It was adjourned.
The commission is examining whether the councillors broke the code of conduct.
They include council leader Jenny Laing and her predecessor Barney Crockett.
The letter was sent out to council tax payers in Mr Crockett's name.
It said the city would be stronger now and in the future as part of the UK.