Council letter 'was not to influence independence voters'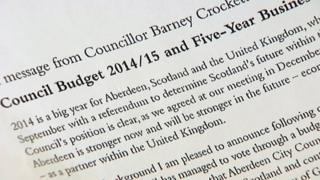 A letter sent to Aberdeen council tax payers was not designed to influence voting in the Scottish independence referendum, it has been claimed.
The claim was made towards the end of a Standards Commission hearing into the conduct of seven councillors.
The lawyer representing five Labour councillors said that her clients were not determined to publish propaganda.
The solicitor for the Commission said it was his view the code of conduct had been breached.
The three person panel will consider a verdict.
The letter stated the city would be better as part of the UK.