Referendum letter councillors cleared of conduct breach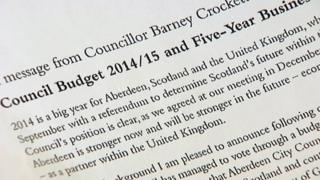 Seven Aberdeen councillors have been cleared of breaching their code of conduct after they sent a letter to council tax payers saying the city would be better off as part of the UK.
Five Labour and two Conservative members faced allegations they had used council facilities for party political purposes.
The letter was sent in the run-up to last year's independence referendum.
They have been cleared following a hearing of the Standards Commission.
The hearing earlier heard that the letter was not designed to influence voting in the referendum.
The lawyer representing five Labour councillors said that her clients were not determined to publish propaganda.
The councillors who were accused of breaching the code of conduct included council leader Jenny Laing and her predecessor Barney Crockett.
The letter was sent out to council tax payers in Mr Crockett's name.