Scapa Distillery opens to visitors for first time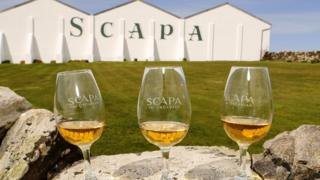 Orkney's Scapa Distillery has opened its doors to the public for the first time in its 130-year history.
Chivas Brothers has unveiled a visitor centre to "educate malt connoisseurs about its unique production process, provenance and quality".
Two permanent and two seasonal jobs have been created.
Scapa Distillery manager Brian MacAulay said: "I have personally taken the pleasure in removing our 'No Visitors' sign."
VisitScotland island manager Barbara Foulkes said: "As this new attraction clearly demonstrates with the creation of four positions, tourism is a vital part of Orkney's economy, creating jobs and sustaining communities."