Killer pulled knife on psychiatrist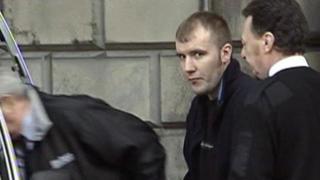 A man jailed for strangling a mother and dumping her body in a field has now been ordered to be detained without limit of time for pulling a knife on his psychiatrist.
Joseph Harrison, from Brechin, killed 21-year-old prostitute Susan Third after she propositioned him in Aberdeen in 2005.
He admitted culpable homicide and was jailed for six years.
He was freed early, but produced a knife during an appointment.
Harrison, now 38, claimed he was hearing voices, and needed the knife for protection.
After Perth Sheriff Court heard about the post-release incident with the knife, Sheriff Fiona Tait made Harrison the subject of a compulsion order.
He will be detained at Murray Royal psychiatric hospital in Perth without limit of time.
Harrison put Ms Third's body in the boot of his car and drove it to a field before dumping it at Catterline, near Stonehaven.
There was said to have been a 70% chance Harrison had sexual contact with the victim after she died.