Race to document Bronze Age Sanday find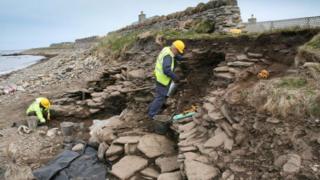 Archaeologists in Orkney are in a race against time to document a Bronze Age discovery in danger of being washed away by the sea.
The burnt mound structure has emerged out of the shoreline on the island of Sanday, and is said to be one of only four in Scotland.
They contain a chamber where stones were heated before being rolled along a passageway into a tank of water.
Theories on use range from boat building and textile work to saunas.
The structure has been dated to more than 3,500 years old.
A team from the charity Scottish Coastal Archaeology and the Problem of Erosion (Scape) is working at the site at Meur for a fortnight.