Assets of X-Subsea sold to James Fisher for £14.8m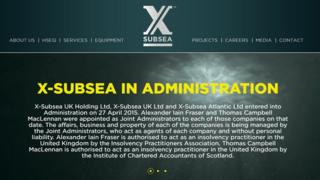 The assets of an Aberdeen-based subsea company in administration have been sold for almost £15m.
It was announced in April that X-Subsea UK Holding and its UK subsidiaries had been hit by a downturn in orders. Twenty staff were made redundant with immediate effect.
Administrators from FRP Advisory have been seeking a buyer.
FRP said competitor James Fisher had bought the assets and intellectual property rights for £14.8m.
Joint administrator Iain Fraser said: "X-Subsea operated in a global marketplace and was well known for the highly sophisticated dredging and excavation equipment it used as well as its expertise in non-contact excavation.
"There was international interest in the assets and we are pleased that they will be retained in Aberdeenshire and hopeful that new employment opportunities might arise following the sale."
Nick Henry, chief executive officer of James Fisher, said: "The transaction strengthens and consolidates our position in subsea services."