Referendum letter report published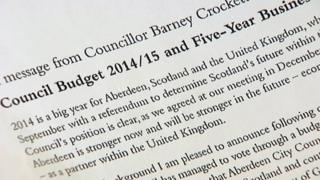 A Standards Commission panel that cleared Aberdeen councillors of breaching guidelines has published a report explaining its decision.
Five members faced allegations they had used council facilities for party political purposes.
They sent a letter ahead of the independence referendum saying the city would be better off as part of the UK.
The report said panel members preferred the evidence of elected members to that of the authority's chief executive.
The five Labour and two Conservative members were cleared in April following a Standards Commission hearing.
They included council leader Jenny Laing and her predecessor Barney Crockett.
Timing concern
The letter was sent out to council tax payers in Mr Crockett's name.
In the full Standards Commission findings report which has now been published online, it is explained the panel believed that the legal advice councillors received from officials was not appropriate.
The findings also stated that the panel had concerns about the timing of the written legal advice.
It said: "The panel preferred the account given by councillors Crockett and (Willie) Young to that of the CEO (Valerie Watts)."
It added: "The panel was satisfied that the letter could not be regarded as being designed to affect public support for a political party."