Concern raised over Jack Nicklaus golf course woodland at Ury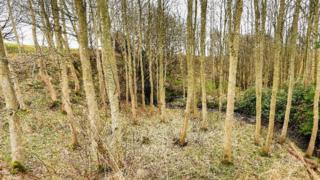 Concern has been raised about the loss of ancient woodland if plans for a £80m golf course are approved.
FM Group is behind the Ury Estate development, near Stonehaven, backed by American golfer Jack Nicklaus, who won multiple Major tournaments.
Woodland Trust Scotland said the loss of several hectares of woodland, and hundreds of trees, would be one of the largest it had recorded.
FM Group said much of the area was poor quality grassland.
Aberdeenshire Council is set to make a decision on the plans on 28 April, which have already been backed by the Kincardine and Mearns area committee.
Woodland Trust Scotland said the habitat involved valued for its high ecological diversity and wildlife.
Charles Dundas, of Woodland Trust Scotland, said: "After the furore approving Donald Trump's golf course, Aberdeenshire Council were very clear about the sort of developments that they would approve when they drew up their official development plan, and the scale of this proposal far exceeds what the plan considers acceptable.
"I just hope that the councillors won't be dazzled by celebrity into u-turning on their existing planning policy, and will think about the huge environmental damage that destroying this woodland would cause."
The charity urged anyone who opposed the proposed development to contact councillors before the final decision.
An FM Group spokeswoman said: "We are very sensitive to the natural environment and aim to do everything we can to improve the natural surroundings and make them more accessible for everyone to enjoy.
"Ury is fortunate to contain a huge amount of biodiversity and the aim is to protect and enhance that.
"Around 17 hectares is designated as ancient woodland but much of this doesn't comprise of trees, but rather poor quality grassland, bracken and rushes.
"Areas of the Ury and Cowie are being overwhelmed by sycamores which are threatening the biodiversity and our development will allow better management of this woodland, enhancing it and promoting greater biodiversity."
FM Group said 600 trees within what is designated as ancient woodland would be removed, 1,000 new trees had already been planted on the estate, and about 5,000 more were proposed around the golf course.