Moray sex attacker Steven Thain jailed for 11 years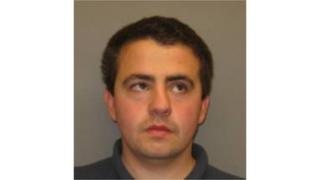 An Elgin man found guilty of raping and indecently assaulting girls in Moray has been jailed for 11 years.
Steven Thain, 26, was found guilty of eight charges relating to attacks carried out over a 12-year period between 2002 and 2014.
He was previously ordered to be detained as a 19-year-old for abuse when he was 12.
Thain was jailed at the High Court in Edinburgh where judge Lord Armstrong said custody was the only option.
Thain claimed during the trial that the females in the case had been telling "big lies".
'Lasting effect'
Lord Armstrong said: "These crimes of which you have been convicted are disturbing and grave.
"I have read a victim impact statement prepared in relation to one of the women concerned.
"Its content is an eloquent exposition of the devastating and lasting effect of your conduct on her life.
"I note that you have a criminal history which comprises previous convictions in relation to three charges of assault and one of lewd, indecent and libidinous practices and behaviour."
He added: "You continue to deny your guilt of these offences, and refuse to take responsibility for what you have done."