Wreck of HMS Hampshire to be surveyed off Orkney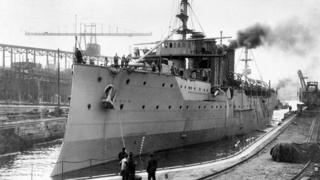 The wreck of a wartime ship which was sunk off Orkney in 1916 with the loss of hundreds of lives is to be assessed by a remotely-operated vehicle.
HMS Hampshire was carrying Lord Kitchener, one of the key figures in World War One, to negotiate with the Tsar of Russia.
He was one of those killed when it struck a mine and sank.
The University of the Highlands and Islands (UHI) and Seatronics are collaborating on the project.
Sandra Henry, of the university's Archaeology Institute, said "It is really significant in the run up to the centenary of the HMS Hampshire to carry out a condition survey and map the extent of the wreck site.
"This survey is being undertaken as a mark of respect and remembrance for those who lost their lives aboard, and all those who lost their lives at sea during the First World War."
Alistair Coutts, of Seatronics, said "We are delighted to be collaborating on this exciting project on this historic anniversary.
"Our aim is to use our Predator inspection-class ROV to survey the wreckage along with the latest 2D and 3D scanning technology to identify key areas of interest, providing informative imagery and insight into the current conditions of the site".