Frank Whyte named as Findhorn Bay capsize death man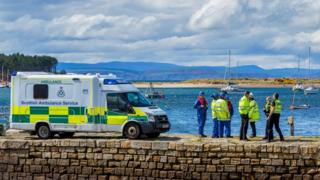 A 69-year-old man who died after his boat capsized in the Findhorn Bay area of Moray during a freak storm has been named.
Frank Whyte, who was from Forres, was brought ashore but died at the scene on Saturday afternoon.
Police and other emergency services had responded to reports of a man in difficulty at about 13:45.
The incident took place as a yacht racing event was being held in the area.
Invergordon RNLI said a 15-minute weather squall at the time in the Findhorn Bay area was described by many as "unbelievable".
Spokesman Michael MacDonald said: "What started as a calm day with sun breaking out became a fierce squall which appeared in almost an instant.
"Our thoughts are with the family and friends of the gentleman who sadly lost his life in what should have been a pleasurable sailing trip."