Work on Aberdeen bypass halted due to muddy water threat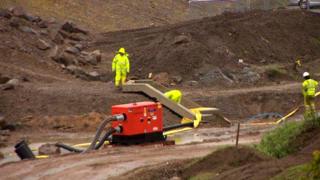 Work on the Aberdeen bypass has been halted for seven days after heavy rain caused muddy water to run off the construction site.
The Scottish Environment Protection Agency (Sepa) is carrying out an investigation into potential pollution in watercourses along the route.
Transport Scotland said contractors had spent three days trying to mitigate excess water flowing from the site.
The bypass is due to completed by winter 2017.
Sepa said there were concerns that pollution flowing into tributaries of the Dee and Don could affect salmon and freshwater pearl mussels.