Human remains found at Iron Age site in Orkney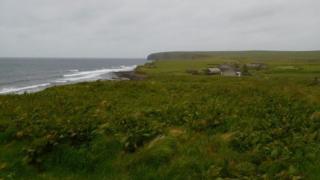 An archaeology project at an Iron Age site in Orkney has uncovered human remains.
A lower jaw bone has been found centrally placed in a large whalebone vertebra within the ruins of a broch at The Cairns in South Ronaldsay.
Brochs, also known as Atlantic roundhouses, were fortified homes built in the Scottish islands and Highlands.
The find on South Ronaldsay, which also includes two human teeth, were made by The Cairns Project on Tuesday.
The University of the Highlands and Islands, which is working on the project along with others including organisation Orkneyjar, said the careful placing of the jaw bone had still to be fully understood.