Figures show use of Aberdeen's new River Don crossing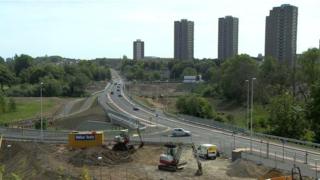 Aberdeen City Council has released figures for the number of journeys made on a new £22.3m crossing over the River Don.
The crossing, which involved the building of new bridges, roads and cycleways, was opened last month.
The infrastructure provides a third crossing over the river in Aberdeen.
The figures cover 9 June to 9 July and include 240,772 vehicle journeys, 2,798 cycling trips, and 4,272 pedestrian treks.
Monday was found to have been the busiest day for cyclists' use of the crossing and Thursday and Sunday for pedestrians.