Fishing boat Majestic sank near pipeline off Shetland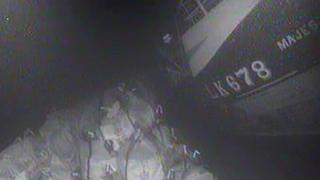 The crew of a fishing vessel which sank next to a gas pipeline were unaware it was going down as they could not hear alarms sounding in the wheelhouse, a report has said.
The Majestic settled on the seabed, just over two metres (7ft) from the pipeline off the coast of Shetland.
Sandbags were placed on the seabed beside the wreck as a precaution.
The Marine Accident Investigation Branch (MAIB) said the wheelhouse was left unattended for a prolonged period.
The skipper and crewman - who were brothers - were working on the deck of the Majestic when they were forced to abandon the boat about four miles from Yell in January.
The MAIB said the crew was not practised in reacting to a flood on board.
They also did not wear lifejackets when abandoning the vessel.
The men were rescued and the Majestic eventually sank.