Orkney fishing trip death man named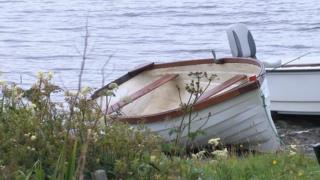 A fisherman whose body was recovered from a loch in Orkney has been named.
Andrew Livingstone, 71, was found after a major search operation at the Loch of Boardhouse in the Birsay area on Wednesday.
The search for his brother - 68-year-old Boyd Livingstone - is continuing.
The men had set off from the Dounby area on Tuesday night. The search began after they were not seen for more than 24 hours.
The small rowing boat used by the fishermen was found and recovered a short distance from Mr Livingstone's body.
The Shetland coastguard helicopter had been called in.
Anglers who were also fishing in the area said conditions on the loch, which measures just 3.2km (two miles) by 0.8km (0.5miles), had been "fairly challenging" and that the wind had made the loch "choppy".
Insp Alicen Winston of Police Scotland said: "Police inquiries are at an early stage in what appears to be a tragic accident, where one male has died and another remains missing.
"Agencies responding to the report of the missing men have been greatly assisted by members of the local community and I thank them for their assistance with our efforts to trace both men."
The Scottish Fire and Rescue Service confirmed they had been involved in the operation and sent two crews to the scene.
A spokesman said: "We were alerted by police at 13:34 to reports the men, who were believed to have been fishing the area around Loch of Boardhouse, had not been seen for some time.
"We sent two fire and rescue crews from Stromness who assisted police and coastguard personnel.
"Our crews left the scene shortly after 15:00."
The search resumed on Thursday.