Temporary offices for Aberdeen and Inverness fire control rooms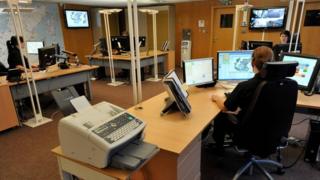 Staff at the Scottish Fire and Rescue Service (SFRS) in Aberdeen and Inverness will be working from temporary, portable buildings while a new joint control room is completed.
Operations are moving to a new North Control in Dundee.
The changes are due to come into effect by the first quarter of 2017.
SFRS said that, until then, calls would be answered from "specialised modular accommodation".
A spokesman for the fire service said they did not have a date for when that might happen.
He said: "We have not yet confirmed the dates for the migration of the existing Aberdeen and Inverness controls.
"The new North operational control is part of a multi-million pound investment that will ensure the continued safety of communities throughout Scotland.
"Whilst we finalise the new state-of-the-art control facility in Dundee, our teams will operate from specialised modular accommodation."
The spokesman added that the service currently responds to every emergency 999 call and that would not change.
The control rooms in Aberdeen and Inverness are set to close their doors early next year.
The service said all testing, staff training and system integration would be completed first.
The plans were approved in 2014.