Reason for farmer Bruce Ferguson's fall into grain silo 'unknown'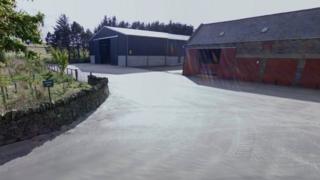 A sheriff has said he is unable to determine how a wealthy farmer fell to his death into a grain silo on his farm.
Bruce Ferguson, 61, is believed to have fallen into the grain store while he swept rafters at his farm near Turriff, Aberdeenshire, in March 2015.
His body was found submerged in the container by his son, Andrew.
Sheriff Philip Mann said he had fallen by "unknown means". Mr Ferguson died of asphyxiation, the inquiry concluded.
The north-east farming community was shocked by the death of Mr Ferguson, who had been president of the Turriff Show in 2014 when the Queen visited to mark its 150th anniversary.
On the day he died, Mr Ferguson had not been seen for some time after preparing a 30-tonne order of barley. His son Andrew discovered his body after going to look for him.
Following the fatal accident inquiry, Sheriff Philip Mann said a post mortem examination had failed to find any natural disease that may have led to his death.
Neither was there any intoxicating substance, save for a "minimal amount" of alcohol, that might have caused him to fall, the inquiry heard.
In his judgment, Sheriff Man said: "It is not possible for anyone to say how Mr Ferguson came to be submerged in grain within the storage container.
"All that can be said is that he fell into the container by unknown means and had been unable to free himself, resulting in his death by asphyxiation."
Mr Bruce's £3m estate was shared by his wife, Kathleen, his son Andrew, who works on the farm, and daughter Lisa, a pharmacist and athlete living in London.