Record North Sea cocaine haul pair to appeal against conviction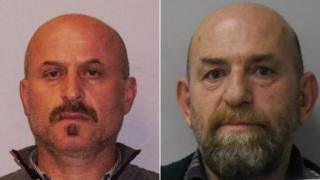 Two men jailed for being in charge of a boat carrying cocaine worth more than half a billion pounds are to appeal.
Mumin Sahin, 47, and Emin Ozmen, 51, from Turkey, were caught after the MV Hamal was stopped in the North Sea east of Aberdeen in April last year.
A total of 3.2 tonnes of cocaine was discovered. Sahin was jailed for 22 years and Ozmen for 20 years.
Sahin has lodged notice of intention to appeal against conviction and sentence, and Ozmen against conviction.
The cocaine seizure was the largest ever recorded in the UK, and said to be worth £512m.
Sahin and Ozmen were both first offenders.
Kayacan Dalgakirin, 54, Mustafa Guven, 48, Umit Colakel, 29, Ibrahim Dag, 48, were cleared of the allegations after the jury returned not proven verdicts.
Three other men - Mustafa Ceviz, 55, Abdulkadir Cirik, 32, and Muhammet Seckin, 27 - were cleared earlier in the trial.
Prosecutors said that the boat had travelled from Istanbul via Tenerife to South America then on to the North Sea.
The raid happened after the MV Hamal was halted in international waters and brought back to Aberdeen Harbour.
It was intercepted by the Royal Navy warship HMS Somerset and Border Force officials.
Sahin was the captain of the boat, and Ozmen second in command.