Funeral for Aberdeen beach death boy and mother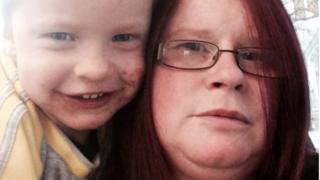 The funeral of a six-year-old boy and his mother who died after getting into difficulties at Aberdeen beach has been held.
Lucas Walker was playing when he was swept away last month.
His mother, 37-year-old Julie Walker, tried to save him, but both died. His brother Samuel, 13, also tried to help.
A newspaper death notice said a celebration of their lives was being held at Aberdeen Crematorium on Friday morning.
The notice said: "They were a much loved mother and brother, a dear daughter, sister, auntie, niece and cousin. Lucas was a very dearly loved son, grandson, brother and nephew.
"Julie and Lucas will be so sorely missed."
Thanked rescuers
Relatives earlier said in a statement that they were "devastated" by the tragedy.
They thanked rescuers for their efforts.
Lucas' brother was also pulled from the water, along with a man and a woman who had also tried to save the pair.
Safety measures at the beach are being assessed as part of an inquiry.
Lucas was a pupil at Bramble Brae School in Aberdeen.