Alix Smith named as woman killed in Moray crash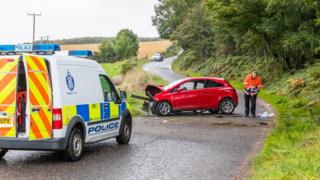 A 24-year-old woman killed in a crash in Moray - which left two other people badly injured - has been named.
Alix Smith, of Forres, was the driver of a red Vauxhall Corsa which crashed on the unclassified road leading from Forres to Califer Hill, near Wester Newforres, early on Wednesday.
A 22-year-old woman and 23-year-old man who suffered serious injuries in the collision remain in hospital.
Another passenger, a 31-year-old man, has been released from hospital.