Police appeal after machete robbery in Cove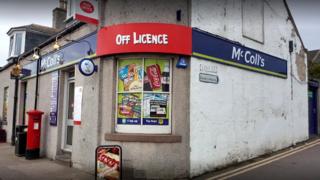 A man escaped with a four-figure sum of money following an armed robbery at a shop in the Cove area of Aberdeen.
The incident happened at McColl's on Loirston Road at about 21:20 on Wednesday.
The robber presented what was understood to be a machete.
He was white, about 6ft 1in tall, of average build , and was wearing a grey hooded jacket, blue jeans and white trainers. Police believe a grey car's occupants may have seen the suspect.
A spokesman said the car drove from Cove Road onto Loirston Road and then onto Colsea Road about the time of the incident.