Leopard sculpture unveiled in Aberdeen by Kelpies creator Andy Scott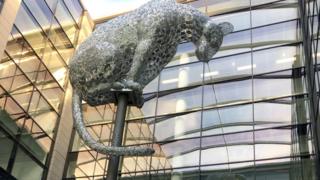 A leopard sculpture by Kelpies creator Andy Scott has been unveiled in Aberdeen.
The steel leopard is located in the new £107m Marischal Square office, leisure and hotel development, where the public will be able to see it from next week.
The Glaswegian said: "I've worked on this sculpture for over a year in the studio and it's been very demanding.
"There are literally thousands of steel fragments, all individually welded to create the form of the artwork."
The sculpture stands 5m tall, weighs just over two tons, and will sit on top of a 10m high column.
"I hope it brings a real presence and sense of drama to the atrium space of Marischal Square," added Mr Scott.
He is best known for the Kelpies, the two 30m-tall horse heads made of steel beside the Forth and Clyde Canal near Falkirk, which became a tourist attraction in 2014.