Future of women's addiction recovery home in Aberdeenshire secured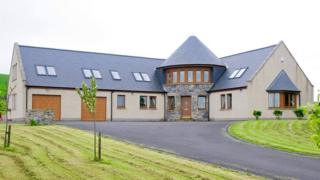 The future of a women's recovery home in Aberdeenshire has been secured following a campaign to raise more than £500,000 to buy the building.
Benaiah - which means "God has built" - is run by the Christian organisation Teen Challenge.
After raising £535,000, the organisation has bought the building, ensuring support can be offered on a permanent basis.
The building, near Stuartfield, was previously rented.
Gordon Cruden, area manager with Teen Challenge North East, said: "It means we'll be able to provide the help to these girls for many years to come."
The home is believed to be the only facility in the north of Scotland where mothers can live with their children as they recover from addiction.
Mr Cruden said: "Women won't go into residential help if they can't take their children.
"So, if a woman needs help and she's got kids, they can come."
'Different person'
More than 100 women have sought help from Benaiah over the past eight years.
One resident, Lorna, said she was in a "really bad place" when she arrived at the centre more than a year ago.
She said: "My health was really bad at the time. I was under six stone.
"I had been addicted to heroin for many years and would drink alcohol regularly."
As she comes to the end of her time at Benaiah, she said she now felt completely different.
'I'm a lot more positive," she said. "I can see opportunities and feel like a completely different person. It was the best decision of my life."
Julie Innes, one of the support workers at the centre, said: "It's a very very rewarding job to see someone come in broken and see them leave whole.
"It's amazing."