Bath Recreation Ground redevelopment plans renewed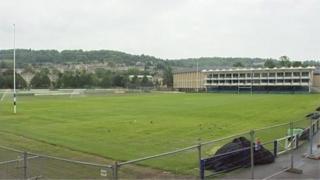 Bath Rugby has launched a new plan to redevelop its stadium at the Recreation Ground.
The club, which leases the ground from the Recreation Ground Trust, wants to increase capacity and revamp the west stand and north terrace.
The club said "given the passage of time" it has abandoned a previous design proposal drawn up in 2013.
It has launched a new initiative to "develop ideas" about the plan called Stadium for Bath.
Because of the complex rules of the Recreation Ground Trust lease, the ground has to be used for more than just rugby.
The club has also faced opposition because the site is next to Bath's Grade-I listed Pulteney Bridge.
A court ruling in December 2016 decided the Recreation Ground Trust could lease the club additional land for redevelopment.
'Unique opportunity'
The club has been consulting since early this year on the project, and confirmed it would submit a new planning application to Bath and North East Somerset Council following a series of public feedback events.
Bath Rugby chief executive Tarquin McDonald said: "At the core of this sits a new stadium at the Rec and a new home for Bath Rugby.
However, it is clear that this project is not just about rugby.
"There is a unique opportunity to create a destination which revitalises the riverside, which benefits and enhances the community and encourages healthier living through accessible and inclusive sporting participation."
The club wants to increase capacity at the ground from 15,000 to 18,000 spectators.
It said it hoped to appoint new architects in 2018, but said it was too early in the redevelopment process to say when the new stadium would be complete.
The Recreation Ground has been the home of Bath Rugby Club since 1894.