Injured pigeons 'ambulance service' takes off in Aberdeen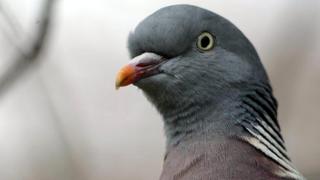 A voluntary ambulance service for pigeons has taken off in Aberdeen.
Kevin Newell and Flo Blackbourn run Wiggy and Friends Animal Rescue and go to the aid of injured pigeons across the city.
They are appealing for help to map colonies so the pigeon patrol can target the most appropriate areas.
The couple - who describe themselves as rapid responders - take the injured pigeons home for rehabilitation before setting them free.
Mr Newell told BBC Scotland that many pigeons get trapped because of netting on buildings aimed at deterring them.
'Horrible deaths'
He told BBC Scotland: "These pigeons have no-one to help them.
"We want to bring awareness that pigeons are dying horrible deaths."
Flying into windows and being hit by cars are other causes of pigeon injury.
Ms Blackbourn explained: "A couple of years ago Kevin brought home a pigeon that he found lying on its back.
"We posted about it, we just thought we'd take him in as everyone else was stepping over him and didn't really care.
"Ever since then people kind of knew us as the people to bring pigeons to."