North east puppy farm victims urged to contact SSPCA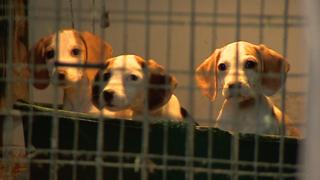 Victims of unscrupulous puppy dealers are being encouraged to come forward by the Scottish SPCA.
The animal welfare charity is appealing for information in north east Scotland following an investigation into a suspected puppy farm in the area.
They want to speak to anyone who has bought a puppy in the past year which has become seriously ill, or died.
Operation Delphin aims to end the illegal puppy trade and involves SPCAs across the UK and Ireland.
A Scottish SPCA undercover inspector said: "We're spearheading the multi-agency fight against the illegal puppy trade.
"Operation Delphin aims to tackle the illegal trade in puppies by detecting offenders, disrupting illicit trade and reducing animal suffering, but we need the victims of these criminals to come forward."
'#SayNoToPuppyDealers'
So far, the operation has seen a number of high-profile cases that resulted in successful prosecution of prolific puppy traders.
The Scottish SPCA is the only animal charity in the UK able to report animal cruelty cases to the Crown, with reports sent to the Procurator Fiscal Service.
They are running an online campaign, #SayNoToPuppyDealers, to encourage the public to buy puppies responsibly.
Anyone with information is being urged to contact the Scottish SPCA animal helpline on 03000 999 999.