Retired regiment pony Cruachan III dies aged 30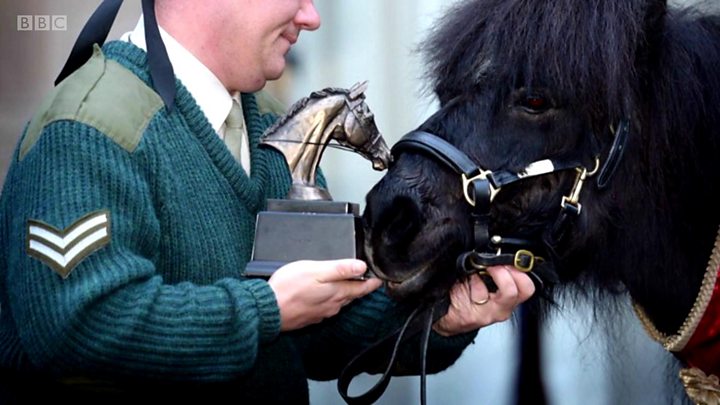 A regiment's retired Shetland pony mascot who met the Queen and served at Balmoral has died at the age of 30.
Cruachan III became the first mascot of the Royal Regiment of Scotland when it was formed in 2006.
The pony, who retired in 2012, was suffering from arthritis and vets made the decision to put him down at Edinburgh's Redford Barracks.
An act of remembrance for Cruachan III - who served on operational tours - will be held at Stirling Castle.
A Royal Regiment of Scotland spokesman said: "It is with a great deal of sadness that we bid farewell to one of the most memorable characters in the regiment.
"Always smart and never failing on parade he represented the regiment loyally and steadfastly for many years.
"He embodied the traits of the Scottish soldier; steady, hardy and even-tempered."
'Rest easy'
Corporal Mark Wilkinson, the Royal Regiment of Scotland's Pony Major who looked after Cruachan III, said: "I know for certain Cruachan IV would not have been as easy to train if it had not been for his calming influence, stern demeanour and occasional nip and telling off.
"Her Majesty The Queen always asked for him and everyone always smiled when they saw him - this is a testament to how loved he was.
"Goodnight Wee Man. Rest easy."