Aberdeen FC Kingsford stadium bid not called in by ministers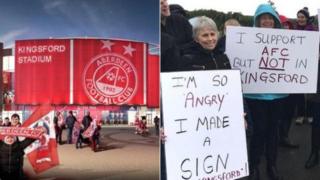 Plans by Aberdeen FC for a new stadium will not be called in by the Scottish government.
The club wants to construct the £50m stadium and training facilities at Kingsford, near Westhill.
The plans were put on hold last October but the council approved the application in January.
The Scottish government said in a statement there were no issues requiring a decision to be taken at a national level.
Aberdeen FC believes the new facilities are vital to its future, but objectors claimed the stadium should be located elsewhere.
Challenge decision
Club chairman Stewart Milne said: "We welcome the Scottish government's confirmation that Aberdeen City Council can proceed to determine our planning application.
"We are keen to begin construction of the community and training facilities as soon as possible."
Diane Reid, from opposition group No Kingsford Stadium - which is pursuing a judicial review - said: "This now leaves the way clear for us to challenge the decision through the courts."
Planners backed the project, and councillors voted 32-9 in favour.
It has been claimed the stadium and training ground would create more than 400 jobs and bring millions of pounds into the local economy.
Objections have been raised on grounds including potential traffic issues and loss of green belt land.