Widow 'gave police four names' after husband's death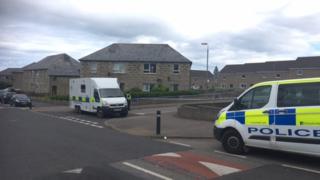 The widow of Gary Clampett gave a detective the names of four men as they drove away from the scene of his death, a murder trial has been told.
Seven men deny murdering Mr Clampett, 39, by attacking him with an array of weapons in Fraserburgh last June.
Det Con Alan Low told the High Court in Glasgow that he had spoken to the victim's widow, Sharon Clampett.
He said she had been "very upset and tearful at times".
Det Con Alan Low said he had been in Queen Street police station in Aberdeen at 04:00 on 19 June last year when he heard about the incident.
Emotional state
He learned a man had died while he was en route to the scene.
The officer knew Mrs Clampett as he had been involved in the investigation into the murder of her father in the 1990s.
The court heard the suspect in that case was due to go on trial five weeks later.
Prosecutor Paul Kearney asked if Sharon Clampett was in an emotional state.
Det Con Low replied: "Yes, she was very upset and tearful at times, quite talkative and then she would go quiet."
Asked if Mrs Clampett gave the names of the people responsible, he replied: "Yes."
The court heard the name of one of the accused, Joseph Martin, was not mentioned.
It is alleged that weapons including a machete, a sword, a chain, a hammer, a crowbar, a wrench, a stick, bats, golf clubs, poles and a metal bat were used in the attack.
The trial before judge Lord Beckett continues.