Jury considers verdict in Fraserburgh murder trial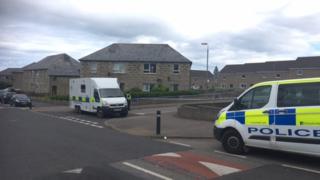 The jury in the trial of seven men accused of murdering a 39-year-old in Fraserburgh has retired to consider a verdict.
Gary Clampett died in June last year.
John Henderson, 47, Gary Martin, 37, Joseph Martin, 40, Thomas Martin , 45, David Graham, 46, James Connor, 52, and Dean Leech, 25, deny murdering Mr Clampett by attacking him with an array of weapons.
The trial at the High Court in Glasgow began more than a month ago.
It is alleged the men hit Mr Clampett with knives, a machete, a sword, a chain, a hammer, a crowbar, a wrench, a stick, bats, golf clubs, poles and a metal bat at Fernie Place.
Judge Lord Beckett told the jurors to take as long as they needed to reach a verdict.