Man left with facial injuries after Aberdeen attack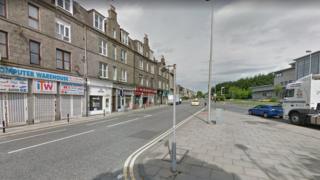 A 22-year-old man was taken to hospital with facial injuries after being attacked in Aberdeen at the weekend.
The man was assaulted in George Street, near the junction with Powis Place, between 23:30 and midnight on Saturday.
Police want to speak to a woman and three men seen in the area at the time who had come from the direction of the city centre. They had local accents.
Two of the men wore dark tracksuits and the woman was short with blonde, shoulder-length hair.
One of the men was described as being in his early 30s, and was also wearing a black hoodie and possibly a cap.
Officers appealed for witnesses and asked for anyone with CCTV of the area to get in touch.
PC Wallace Dickson, of Police Scotland, said: "This appears to have been a completely unprovoked assault that could potentially leave a man scarred. At the time the victim was standing out on the pavement with a small group of people, all of whom were left understandably shaken by what had happened.
"Did you see a group of three men and a woman on George Street on Saturday night and know who they might be? Do you have private CCTV which officers have not seen yet which could help? We are unsure what direction the group left in, so any additional information could help greatly. "