Shares in drug firm ProStrakan tumble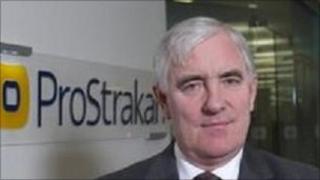 Shares in the Galashiels-based drug company ProStrakan have plunged on negative news of two of its products.
Manufacturing in the US of its Sancuso skin patch has been halted after an inspection of the factory.
ProStrakan said that meant it could not meet cutomer demand and the shortfall would wipe £5m off its profits.
At the same time, approval for a second drug has been delayed and the company's chief executive, Wilson Totten, has announced his resignation.
Aveva Drug Delivery Systems makes the Sancuso patch for ProStrakan in the US.
It is used to combat nausea in patients undergoing chemotherapy.
ProStrakan said it expected to restart delivery in the first quarter of 2011 but the inability to meet orders would have a financial impact on the company.
At the same time the Borders company said approval for Abstral, a formulation of fentanyl used to treat sudden bouts of severe pain in cancer patients, would be delayed in the United States.
ProStrakan had originally expected approval in June but that slipped to September and now the company said there would be a further delay.
The company also announced that its chief executive, Dr Totten, had stepped down with immediate effect.
He has been replaced by non-executive chairman Peter Allen as acting chief executive.