Eye test firm Optos looks to the east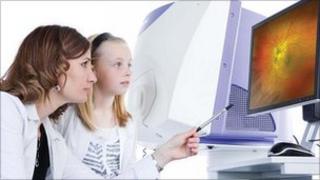 The retinal imaging company, Optos, has returned to profit and has said it is looking to grow abroad.
The Fife-based firm made a profit of £8m for the year compared with a loss of £2.4m last time.
Optos said its recent acquisition of the Australian firm Opto would give access to other global markets, including the far east.
The Fife-based firm sells eye-testing machines which can detect high blood pressure and some cancers.
Optos chief executive Roy Davis said: "In the last financial year we have delivered a solid improvement in revenues, returned to a healthy profit and generated very strong cash flows.
"We have also made good operational progress and expanded our product portfolio through internal development and acquisition."