Edinburgh investors 'should bear bank risk'
Edinburgh's fund managers have been told to take a more active role in controlling risks taken on by banks.
The Bank of England's chief cashier has warned that those providing funds to banks should not assume the public will pick up the costs of failure.
Andrew Bailey's new role is to oversee banks, as deputy chief of the Prudential Regulatory Authority.
He takes up the post as the government moves to re-organise regulation in the wake of the financial crisis.
During a visit to Edinburgh to hear and talk to the capital's financial community, he was interviewed for BBC Radio Scotland's Business Scotland programme, and warned that too much dependence was placed on regulators, and not enough on analysis by investors.
"There is an assumption that major banks will not fail and public money will have to be used to get them out of trouble," he said.
"The difficulty is this blunts the incentive of those putting up the funding to undertake the necessary monitoring and disciplining processes.
"It's particularly true of the fund management community in Edinburgh - which is a very important fund management community.
"They have a role to play because market discipline should be the first line of defence, not regulators like me coming along and beating people over the head.
"We have our role to play, but a system that doesn't have that market discipline in it is one that has a weakness."
The comments come at the start of what Mr Bailey's believes will be a vital year for deciding how best to handle the question of what to do with banks that are deemed "too big to fail".
He said there is a regime in place for resolving the problems of small institutions that collapse through lack of funding. That has only been used once, in the case of the Dunfermline Building Society in 2009.
But he said there were still difficult choices to be made in handling larger banks, where the government effectively guarantees them against failure, because the economy depends on them.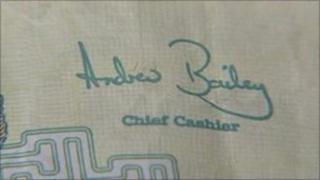 Mr Bailey said: "This is a big issue for the calendar year, and it's an international issue.
"We can't do this without the rest of the world. We need to make progress on that this year, because at the heart of this regulation issue is who bears the cost."
The chief cashier is best known for his role of providing a signature for all Bank of England banknotes, while he also heads the department that handles issues around bank liquidity.
He highlighted the regulator's argument that the public should understand the need to put stability at the heart of the financial system.
He said this was like the change in perception of inflation after the experience of the 1970s, when it had gone out of control, and since when its control has been central to UK monetary policy.
He said other objectives, such as lending, consumer choice and consumer protection, will have to take a lower priority.
"They are all important and things the public has a right to expect, but they can only be done if there is a stable financial system," he said.
Business Scotland is on BBC Radio Scotland at 1003 GMT on Sunday 16 January, and available soon after then on BBC iPlayer and by podcast.