Scottish travel firm recruits for 'world's best job'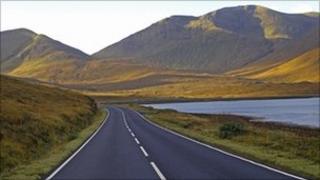 A travel firm is looking for "new talent" to act as guides on trips across Scotland and Ireland.
Described as the "best job in the world", Rabbie's Trail Burners said they were looking for up to 40 new "personalities" to lead tours.
Recruits will be given history and driving training but are expected to have a "natural passion for life".
The company, which offers trips of between one and 16 days, attracted more than 35,000 visitors last year.
Rabbie's said there were currently 12 positions available as guides, operating from Edinburgh and Glasgow, with plans to hire 40 new recruits in the next three years.
The company's founder, Robin Worsnop, said his travel guides came from all walks of life and ranged in age from 24 to 62.
'Remote regions'
He said: "The personalities of our driver-guides are one of the most important and memorable components of the Rabbie's visitor experience.
"We aim to provide new and authentic experiences that take visitors off the beaten track to discover the real country and its people."
He added: "Our training will take care of history, local knowledge and the PCV licence, but it is the natural passion, enthusiasm and appetite for life, that's at the top of our job description."
Driver-guide, Mac Dalrymple, who has been with Rabbie's for three years, said: "Personally, I think it is the best job in the world.
"Every day is different. It's not just the privilege of getting to regularly visit the most breathtaking and remote regions of the UK, but meeting so many people from so many countries, has really opened my eyes."
The firm said it was taking on staff to meet growing demand.
It plans to increase the number of its routes, including a new service in Ireland, and a whisky tour on Speyside from April of this year, with longer-term plans to do more in England.
Robin Worsnop set up the business in 1993 with a £6,000 loan from his brother to buy a mini-coach after graduating with an MA in history from the University of Edinburgh. In 2009 the firm had a turnover of £2.5m.