Barrhead Travel boss hits out at 'Mickey Mouse' degrees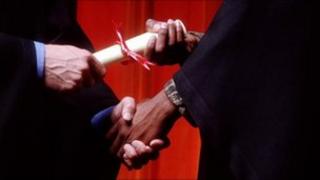 One of Scotland's leading travel agents has attacked career advisers for pushing too many school leavers into college and university courses.
Bill Munro, chairman of Barrhead Travel, said more effort should be put into providing apprenticeships instead of pushing "Mickey Mouse" degrees.
He has praised the UK government's drive to create 100,000 more apprenticeships by 2014.
His comments come as the firm announced it was creating 50 new jobs.
Mr Munro said apprenticeships were better than "Mickey Mouse degree courses which in no way prepare people for the outside world and the demands of the workplace".
The East Renfrewshire travel company is looking to double the number of its staff in Glasgow from 50 to 100, in addition to hiring 20 new apprentices.
It is also planning to add four more retail outlets to the 22 already operating.
But Mr Munro said his firm faced "an uphill struggle" recruiting youngsters against the advice being given to school leavers.
'Completely untrue'
He said apprenticeships should be considered equally valid to university study.
"I applaud the government for investing in apprenticeships," he said. "They give a good, solid introduction to working life for school leavers.
"I believe it is completely untrue to say that there are no jobs available for youngsters in the current economic climate.
"At Barrhead Travel, we are continually looking for 16 and 17 year olds who can learn the travel business from the ground up.
"We require conscientious, well-travelled staff of any age, because we are growing the business, and we welcome those who are looking for a career change, whether they're currently in work, or perhaps have been made redundant and are struggling to find a job in their usual field."
The new jobs will see the Barrhead Travel's workforce increase to 550 across Scotland and Northern Ireland.